Discussion Starter
·
#1
·
CORDES PERFORMANCE HEADER TESTING & REVIEW
INTRO:
We had the opportunity last week to test a new set of headers for the 2014+ C7 Corvette by Cordes Performance Racing (CPR) of Mesa, Arizona. Joe, the owner of CPR was excited to have us test one of the first sets out. We were happy to take on the challenge, and give our opinions on quality, fitment, and of course their performance gains. These headers feature 2" primaries, V-band style connections, and high quality stainless steel construction. Our test vehicle was a 2014 Z51 with dual mode exhaust.
Our buying experience with CPR and their staff was excellent. Prompt email and phone responses helped the process to move along smoothly. The headers took 4 days to arrive through ground shipping, and were packaged pretty well. The headers come complete with everything one will need to complete the installation including new GM MLS manifold gaskets - something no other company we have tested does.
INSTALLATION:
These headers are large, and somewhat bulky compared to ARH, Kooks, or Stainless Works. By "bulky" I mean heavy - solid - stout....whatever word you want to use to describe a well built set of headers. They feel great in your hands. These headers do require the engine to be lifted up about 2" which helps to slide them in place. We also opted to remove the starter motor which gave even more clearance. On Z51 models, the dry sump oil lines will have to be disconnected, and the oil drained. Do not forget to drain the oil completely from the pan, not just the sump lines themselves. Otherwise, you may overfill the engine when time comes to add oil!
Once the headers were in place, I began bolting them onto the heads using the new manifolds, and the stock header bolts which (in my opinion) are more than sufficient enough for any performance car in term of strength, and reliability. They also have factory installed thread locker which keeps them from backing out after a few heat cycles. The headers bolted up well, and gave no fitment issues in or around the engine bay or frame. Yes, they are tight in some areas, but that is to be expected on a 2" primary. Anyone who has installed 2" headers in a C6 will know what I mean. I did have to adjust a brake line on the driver's side near the firewall to get it way from one of the primaries.
The kit comes with 02 sensor extensions which I ran above the factory heat shield out of the way from the heat that is generated while the engine is running.
I loved the V Band feature on these headers. We typically use these connections on high end turbo systems and exhausts where an exact, leak free fit is needed. A V-band will lever slip, or move - no matter the situation. The mid pipe fit well, but was not as precise of a fit as the ARH, Kooks, or Stainless Works which all leave a bit more wiggle room. V band connections are exact, which means the pipes have to merge perfectly, or they will not seal.
The only fitment issues I had was between the mid pipe (x pipe) and the factory exhaust connections at the axle back. It was a bit tight in some areas, and clamping everything together was tough. Being that the car was on a lift at my shop made it a bit easier to handle, but I could see someone installing these at home having a tough time getting everything lined up perfectly. The clamps used to connect the x pipe to the connections leading to the axle back are a "band style" clamp which were also somewhat tedious to install. I had to install the clams first at the 12 o clock position in the tunnel, then put the exhaust together. This made it difficult to line everything up as the mid and connections pipes were already tightened. With some patience though, I got it.
Once the system was installed, I was not happy with the clearance I had between the rear trans housing and the piping. I made some spacers, and spaced down the hanger bracket which bolts to the transmission. No big deal, but might have been an issue for someone at their home.
Overall, I was happy with the fitment of the exhaust, but I will suggest some changes to Cordes to make it a bit easier for the next guy. I also added an additional 02 sensor bung to the passenger side of the x pipe for tuning purposes. Our tuner prefers to leave the front 02 sensors in place, and use a rear 02 bung for his wideband which provides more accurate readings. This system did not have any provisions for rear 02 sensors, so I had to add my own.
The last part of the install was the tunnel plate. I did have to shim it down at the front of the tunnel just slightly to clear the large primaries. I used washers, but Joe at Cordes assured me that future kits will come with machined spacers...a nice touch. Otherwise, the tunnel plate bolted back into place normally.
PERFORMANCE:
We tested the Z51 using our own Mustang Dyno MD 500 we have here at the shop. The headers performed well, producing a final reading of 437 RWHP and 440 RWTQ - something that surprised us all. I expected a lower torque reading than what these produced. That was a gain of 22 RWHP and 36 FT LBS of torque! Excellent results for a larger primary header on a 6.2L.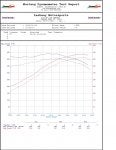 SUMMARY:
Overall I was impressed with the fitment of the headers. The x pipe, and connection pipes were tedious to install, but fit in the end and did not rub or touch. I will suggest some tweaks to CPR, but will leave it up to them to make those changes should they feel they are needed. I think 2" primaries are too large for most C7's out there, and would never recommend them for someone with only bolt ons. They are better suited for blower applications, and larger than stock cubic inch engines. However, our test proves that they still perform well compared to other brands on the market.
Below are my overall ratings on a scale of 1-10
CUSTOMER EXPERIENCE WITH CPR: 10
SHIPPING TURNAROUND: 10
PACKAGING: 7
FITMENT: 8
DIFFICULTY OF INSTALLATION (COMPARED TO OTHER BRANDS): 6
QUALITY: 10
VALUE: 8
PERFORMANCE GAIN: 8
--
Erik Bentley, President
Lashway Motorsports, Inc.