So I bought Elite Engineering's "Better" Catch Can and just installed it on the vette last night. Took about an hour of lazy work. Very easy, all you need is a socket wrench, some scissors to cut the hoses to size, and maybe some pliers for the hose clamps if you got girly fingers like me.
Here's the basic package:
Here it is all hooked up: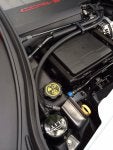 Instructions from their website were very easy to follow. Everything seems pretty high quality. Props to GM for the type of hose clamps they use; VERY user friendly (they're these weird push clamp things I've never seen before.
I went for a 100 mile drive and then came back and checked my can the following morning:
There was a light film of oil at the bottom (hard to see), but not enough that it really collects anywhere if you tilt the can (just a layer of oil really). I'm still in my break in period and only have 200 miles on the car now so I'll update as things go along.
Once I take some hard corners I imagine I'll see more oil come along.
One thing that concerns me is the separator that replaces the stock fill cap actually came apart into two pieces. It makes sense to me because it seems to be the only way you could actually screw the bottom piece into the box (the "elite" top part spins freely). But I can't really tell how great a seal it creates:
The "elite" part I'm holding above lifts straight out of the part that you screw into where you stock oil cap goes. So the part I'm holding is the too part, and the part that's in the hole is the bottom piece that's already screwed into the box. Looks like there's some dry gasketing there and it stays in well enough, but idk about a true seal. Maybe I'll gasket something in to help it:
If anyone has any questions I'd be happy to help. Steve, at elite engineering, was also extremely helpful with answering all my questions through our email exchanges. I'm currently waiting to see if he can comment on my separator issue.
If tunerboost, or anyone can comment on my separator concern it would be greatly appreciated. I'll update this as I get more mileage.