Discussion Starter
·
#1
·
The 'backstory':

I have a smaller garage where RedHot is stored and a larger one. Both garages are now ten years old (we built our house in 2005) and had their floors professionally epoxy coated when new. The epoxy looked great and held up pretty well for about 8 years and then started having a few areas where it lifted slightly from either hot tires (we live in the desert) or had some battery acid leak from a prior golf cart. I considered getting them redone with epoxy but ultimately decided against it for 2 reasons: it would have to be done again in about 9 to 10 years, and the cars would have to be outside for a week to allow proper and full curing.

Options:

I considered flooring alternatives and narrowed it down to RaceDeck (from Snap Lock) and TechFloor (from WeatherTech), both incidentally manufactured in the USA. [Included in my review were also tiles by Swisstrax, Costco, etc. eliminated as not matching my needs as well as either RaceDeck and TechFloor did.] In case you are not familiar with either, they are both interlocking tiles systems that end up creating a 'floating' floor above your existing garage floor. The underside of the tiles are designed to allow liquids to flow out and away as well as to allow for air to pass to avoid any mold growing. The only prep you need to do before putting them down is to sweep clean any dirt, etc. I got samples of both and then decided I preferred the thicker tile of RaceDeck. The tiles are impervious to most chemicals and petroleum products. Basically the only thing I saw from reading lots of reviews was you shouldn't do any arc welding on them unless you protect the tiles. Since I wasn't planning on taking up arc welding that was not an issue. And, if I do and somehow destroy an individual tile, you can take it out and replace it. They are rated for vehicle rolling loads to about 80,000 pounds, so apparently next time Jay Leno comes over, if he wants to park his modified M47 Patton M1 tank (or even if he gets that Abrams tank he was looking at) in my larger garage, it should be OK. I used the RaceDeck's excellent garage-floor-designer/planner on their web site to figure out: the colors (it comes in 12 or so); my design; type of tile (they have several, I went with a combination of "diamond and free-flow;" diamond are solid on top while free-flow are a grid with openings all the way through); and the number of tiles needed for each garage. I also ordered their AccuPark system (2 per car) which enables you to pull in and park in the exact location each time. They are metal and interlock right into the floor just like the standard RaceDeck tiles, include a 'warning' raised bump you drive over and then the second bump you stop at. I also ordered the tapered leading edge tiles in the matching colors for use at the respective garage doors.

Process:

I purchased everything directly from Snap Lock and they shipped it to my house, arriving on a single pallet weighing 699 pounds. The tiles were packaged into 20 boxes, with the average being about 35 pounds. The solid tiles are heavier than the Free-Flow. I broke the pallet down into two piles representing the tiles etc. that were to go into each garage.
Here is a picture of the pallet.




Here are the garages pre-RaceDeck installation.




The tiles I went with are their standard 12"x12" (they also sell the same system in 18"x18"), so unless your garage is close to some multiple of 12" you will probably end up doing some cutting to fit your specific install. While you can cut them with a variety of tools, I decided to get a couple to make the job easier (IMO the 'right' tool always reduces stress and makes the job go easier, and you can't have too many tools). I purchased a Rockwell BladeRunnerX2 (kind of like an upside down table-mounted jig saw with great cutting guides), Bosch plastic cutting blades for it, and a Keter Work Bench so that I can cut/trim the tiles as needed 'on location' in each garage.
The process is really very straight forward, following their printed instructions on every box of tiles and their video (on their web site). It took me about 2 ½ hours start to finish to do the smaller (Corvette) garage including the cutting of the tiles to finish the floor to rear wall area (it was about 3 additional inches that I needed to cut for the area across the back wall). After installing the AccuPark the instructions recommend allowing the tape that adheres the metal plate to the special flat interlocking tiles to 'cure' up a couple of hours before parking on it. I followed those instructions but that 'wait' time is not included in my start to finish time. Gel knee pads were an absolute must since you are continually going down on your knee as you install the next tile in a row (however alternatively, you can, as demonstrated in their video, step on each tile as you put them down instead of getting down on a knee and using a rubber mallet as I did). The BladeRunnerX2 made cutting the tiles for the areas that were less than 12" long a piece of cake. The guide ensured the cuts were straight.

There were no surprises other than how easy it really was to do by yourself. The finished floor looked so good I was really reluctant to put my miscellaneous junk back in the garages.

Here are progressive pictures of the process in my smaller garage.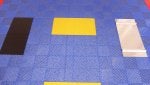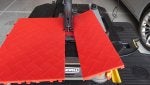 Here are a few from the larger garage which took me about 6 or so hours. It took longer both because of its size and the number of built-ins I had to custom cut around. Also because that garage faces the street a number of neighbors stopped by to look, ask questions, etc. which added time. By the way, for doing the cutouts around circular objects I used cardboard to make the template and then transferred it to the tile to cut.


Here are progressive pictures of the process in my larger garage.




Bottom line, would I do this again now having done it? Absolutely! Remember to check back re long term durability when RedHot becomes an antique or is replaced by a C9 RedHot.