Delivery.
My day finally came on October 24th. My Stingray was built on October 3rd and rolled off the line at 8:47am central time. I'll be glad to provide any of the details of the actual delivery if anyone is interested but I'm betting that you have read and seen enough to make your own mind up about option R8C. For me, it was worth every single penny. If I bought another Corvette tomorrow, I'd do it all over again – and yes, I paid full price. The most amazing part was having my friends, family, co-workers watching me on the web cam and calling and texting and emailing me while my car was on the boulevard. A lot of folks were able to participate in my day as a result and I couldn't wipe the smile off my face. To sum it up, What a total whirlwind. Delivery day at the National Corvette Museum was simply an unforgettable, amazing event. Getting to share and enjoy the experience with my NCM family, priceless. Thank you for being part of our life and my delivery.
My unbiased view is that Lori and Shane at the NCM are really great to deal with on the information flow. On the scheduling side of things they will try to accommodate your needs and schedule as best they can. As the craziness of the launch starts to taper off a little and things begin to normalize, it will only get better. Please understand that they are working six days a week up to twelve hours per day. All of the delivery hosts are personal friends and I'd recommend any of them. The PDI on the car is as good as it gets. The tours of the plant and the NCM are a lot of fun and you can learn a lot about the car and the heritage of the Corvette. Both are worth taking the time if you can.
The buildup.
Fully aware of what this car was and was capable of I was ready to own one and had been for a very long time. However, I wasn't one of the lucky ones that could place a deposit after the reveal. I needed to wait for pricing to be released. Once it was and I figured out that I actually could afford one, it was off to the races. As it was going to be a museum delivery, location of my dealer didn't matter. I've heard lots of good things from customers all over the country about dealers. I was just focused on one of the top five dealerships because they were going to have the allocations. I knew that my order came with some complications and when I talked with them about it, they were fine in taking on the challenge.
The order and purchase process couldn't have been any simpler really. Honestly, I'll classify it as the easiest car purchase I've ever had. I exchanged a couple of emails and a couple of phone calls with my dealer ahead of time. I knew exactly what I wanted and after a total of maybe 30 minutes, the order was placed and I had an order number. Once my number came up, they took care of everything. I financed through them and again, with one 20 minute phone call to go over the details, wrapped that up. They did everything they said they were going to do, when they said they would do it. They FedEx all the documents with a return envelope. I just needed to review and sign and send off my check. They even took care of my registration process and once the papers were returned, another envelope showed up with my temp tag, registration and they even alerted my insurance company. I had everything I needed well in advance of heading off to pick up my car. When my hard plates were complete, they were sent to my house (received them today). Having worked with Criswell Chevrolet and Mike Furman on this transaction, I couldn't recommend anyone more highly. A very professional, well run organization.
Seeing my car on the boulevard was just an experience that I can't even describe. This is something that I've wanted to do for 10 years.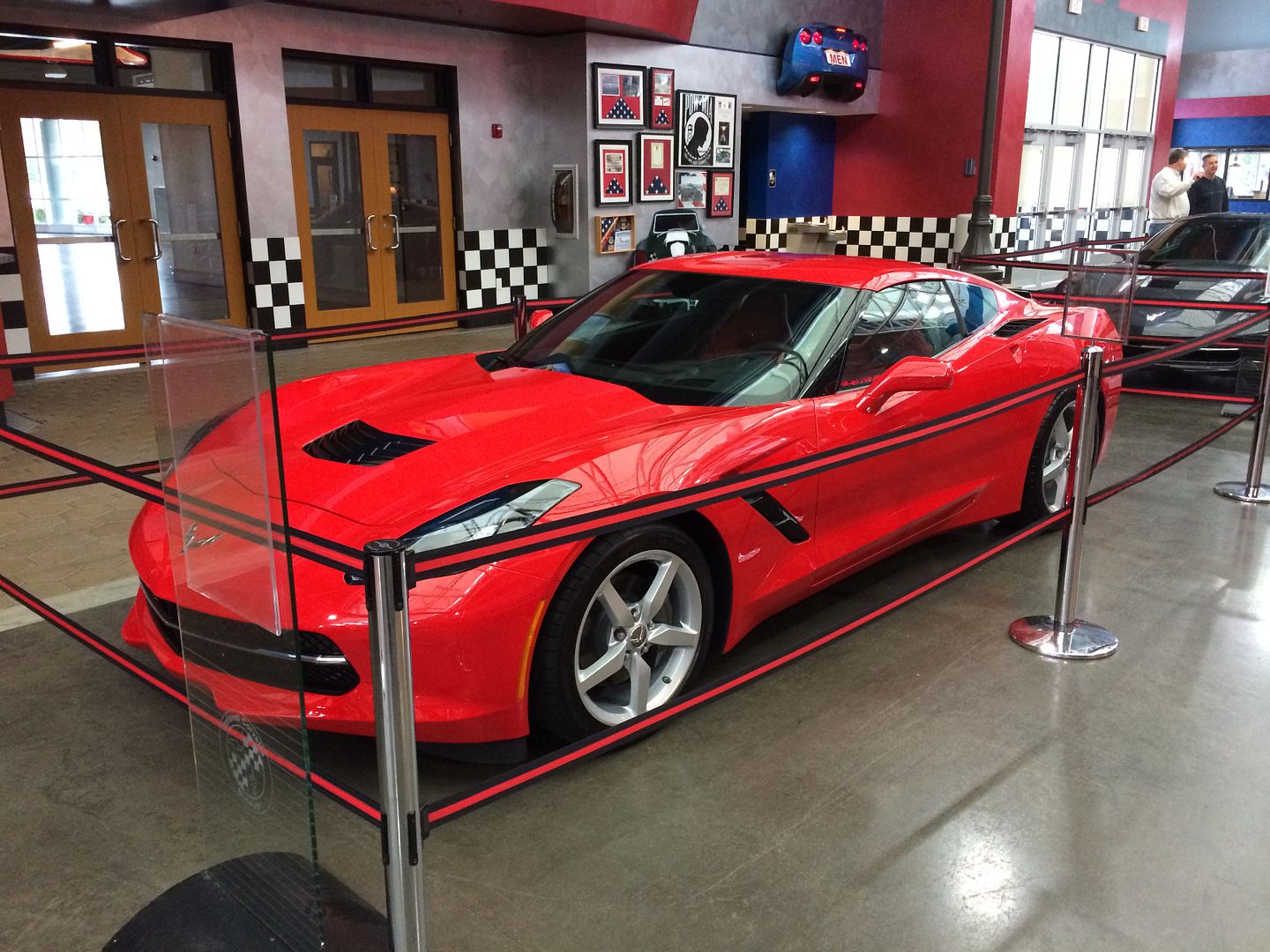 The car.
I didn't think it was going to be possible to find a car that I loved more than my 2005 Corvette but I have. I had several hours of seat time in C7's prior to taking delivery of my very own. That time was always somewhat task focused and I later realized that I was missing out on the enjoyment of the drive. Being behind the wheel of my very own car opened up my senses. I won't bore you with my going on and on about everything that I love about this car but the list is very long and very complete. My one gripe is that for the time being, iOS7 broke the iPod out feature of my phone with the MyLink system. My car is as perfect as it can be and I couldn't be happier. The best way that I could think of to break this car in and get to know it's idiosyncrasies was to take it on a very long road trip. After I took delivery, I drove around my favorite back roads and for a couple of days. I wanted to shake down the car and use the time to start the break in miles. By Friday evening I had accumulated about 260 miles on the clock. Early Saturday morning, Off I went. I started a road trip to Florida. Before I knew it, I had driven over 800 miles and 13 hours (with a couple of stops) and frankly, could have gone a couple hundred more miles. This car is comfortable, handles incredible and is just easy to drive.
I stand by everything I said about this car prior to the release. It is better than the magazines have even made it out to be. I can't believe I own one. To date I have a little over 1,260 miles on the car and loving every minute of it.
A few photos:
My car is a Torch red, non-Z51 2LT with Adrenaline red interior and navigation radio.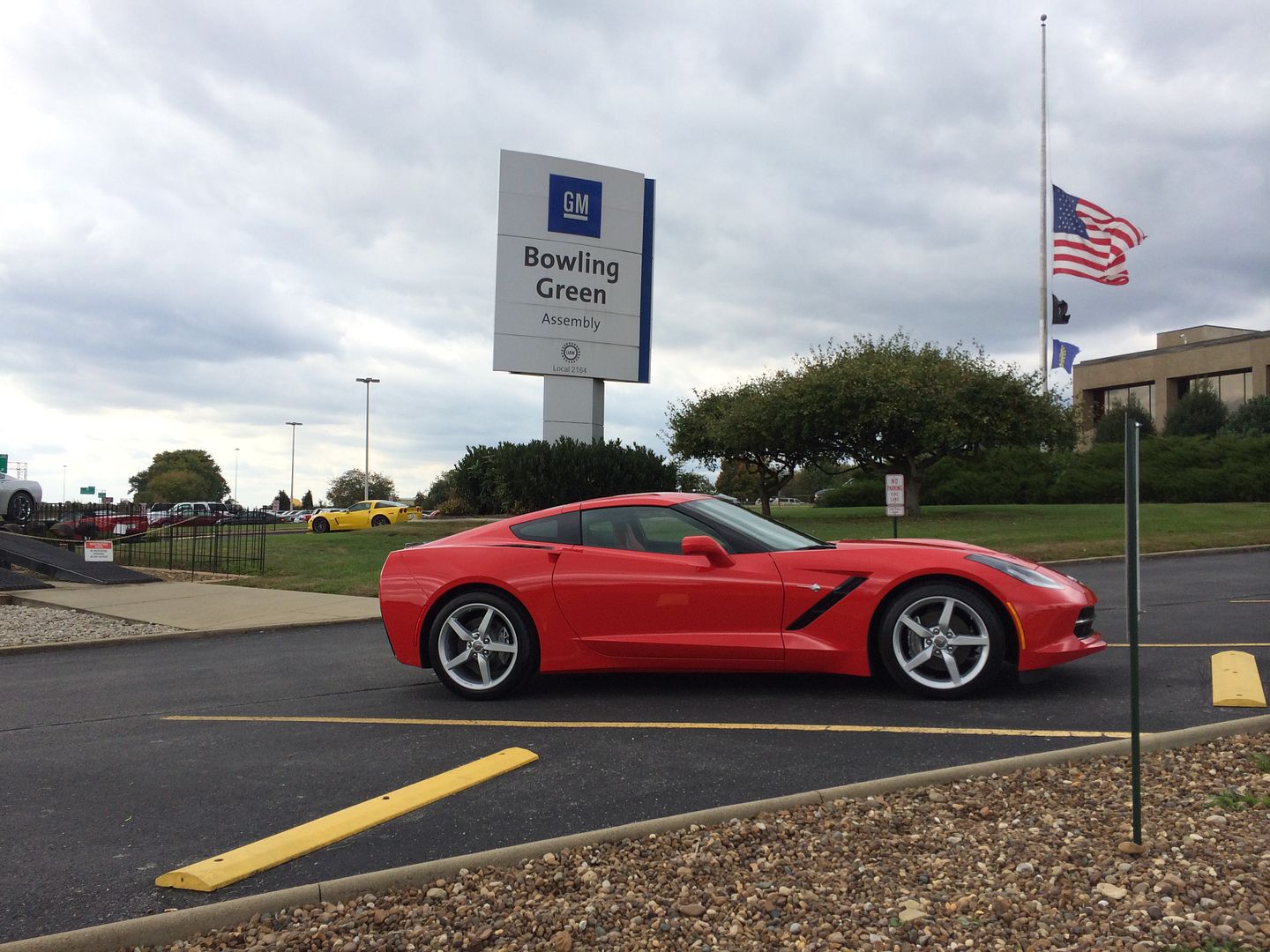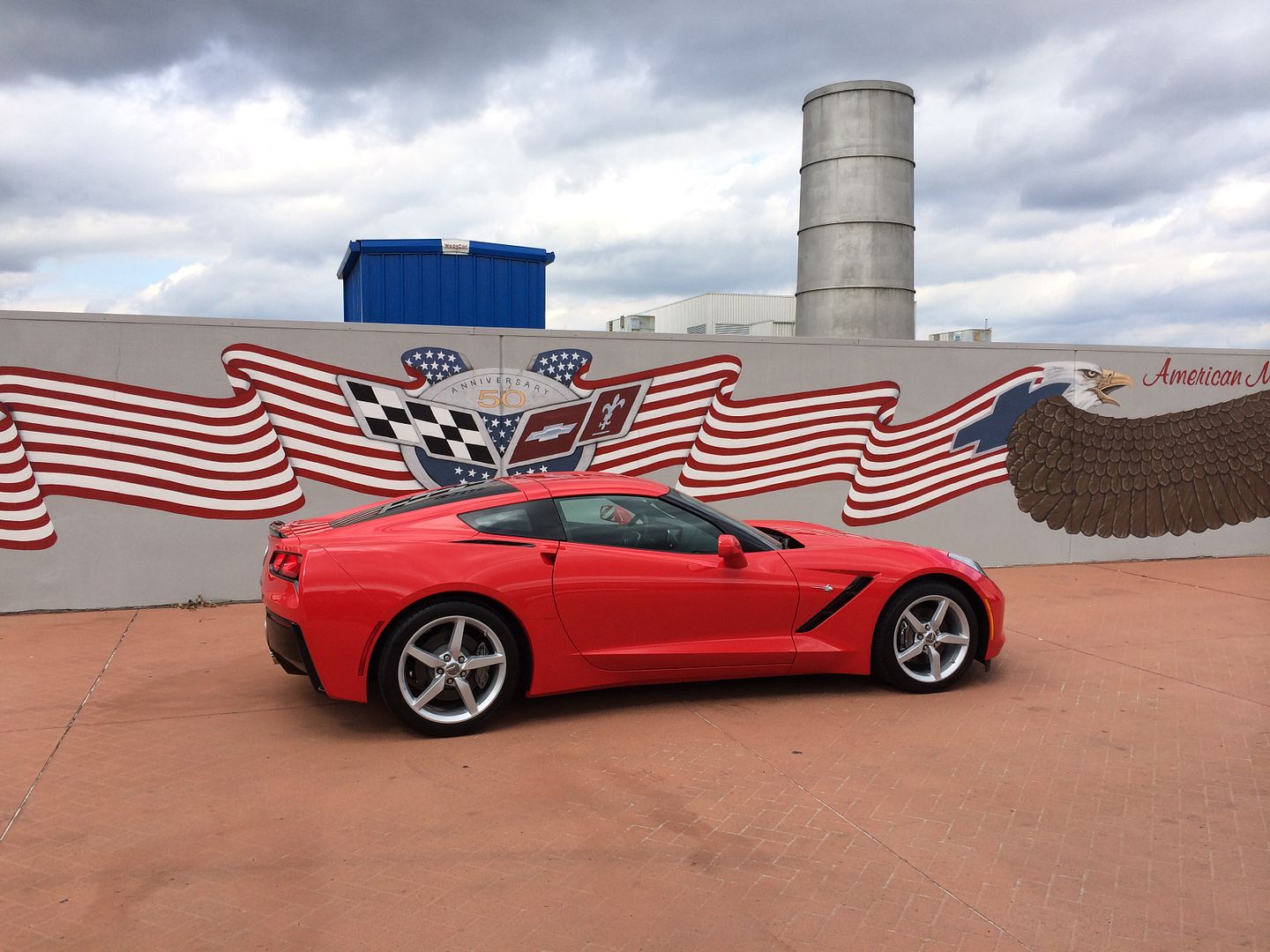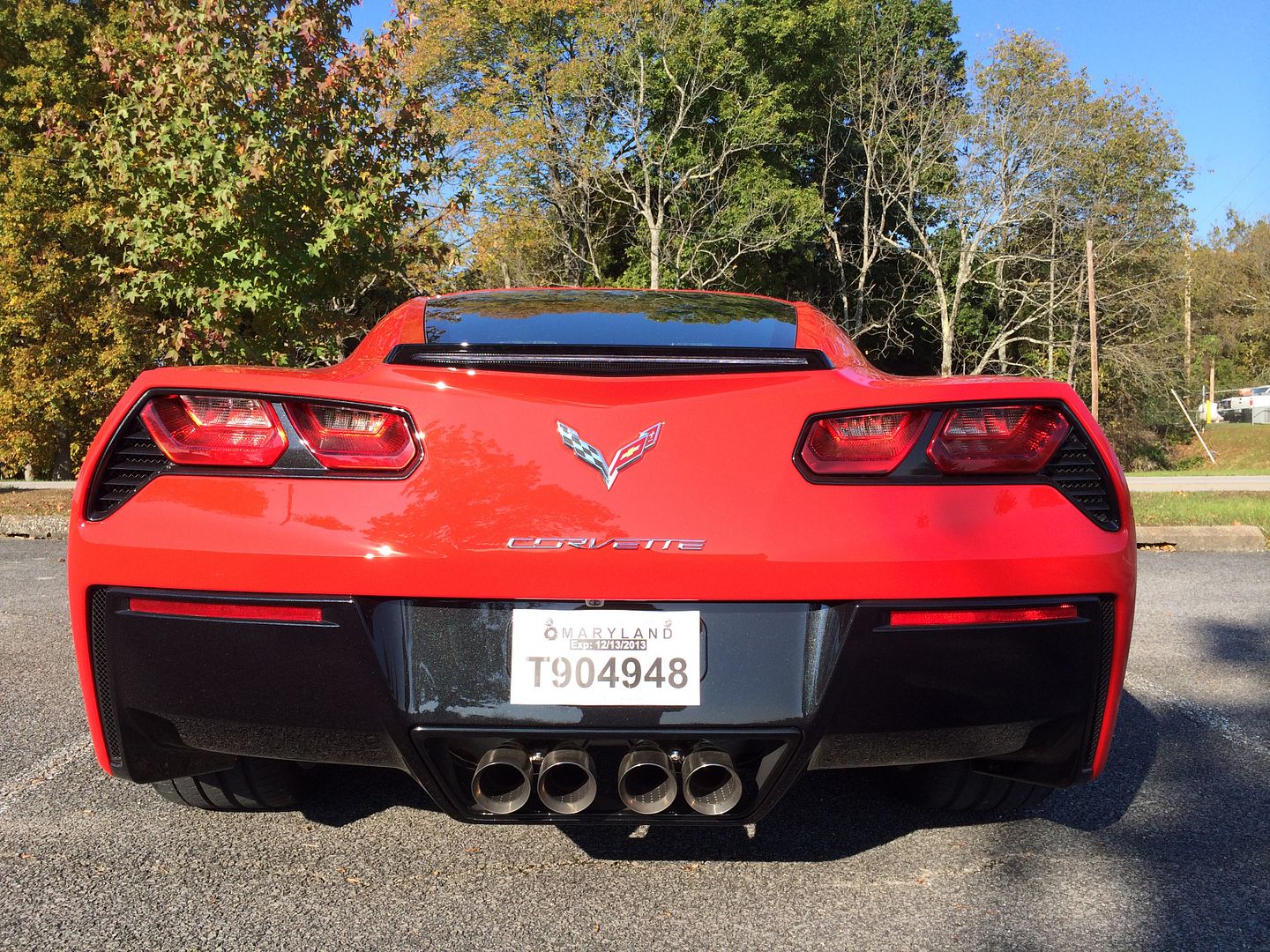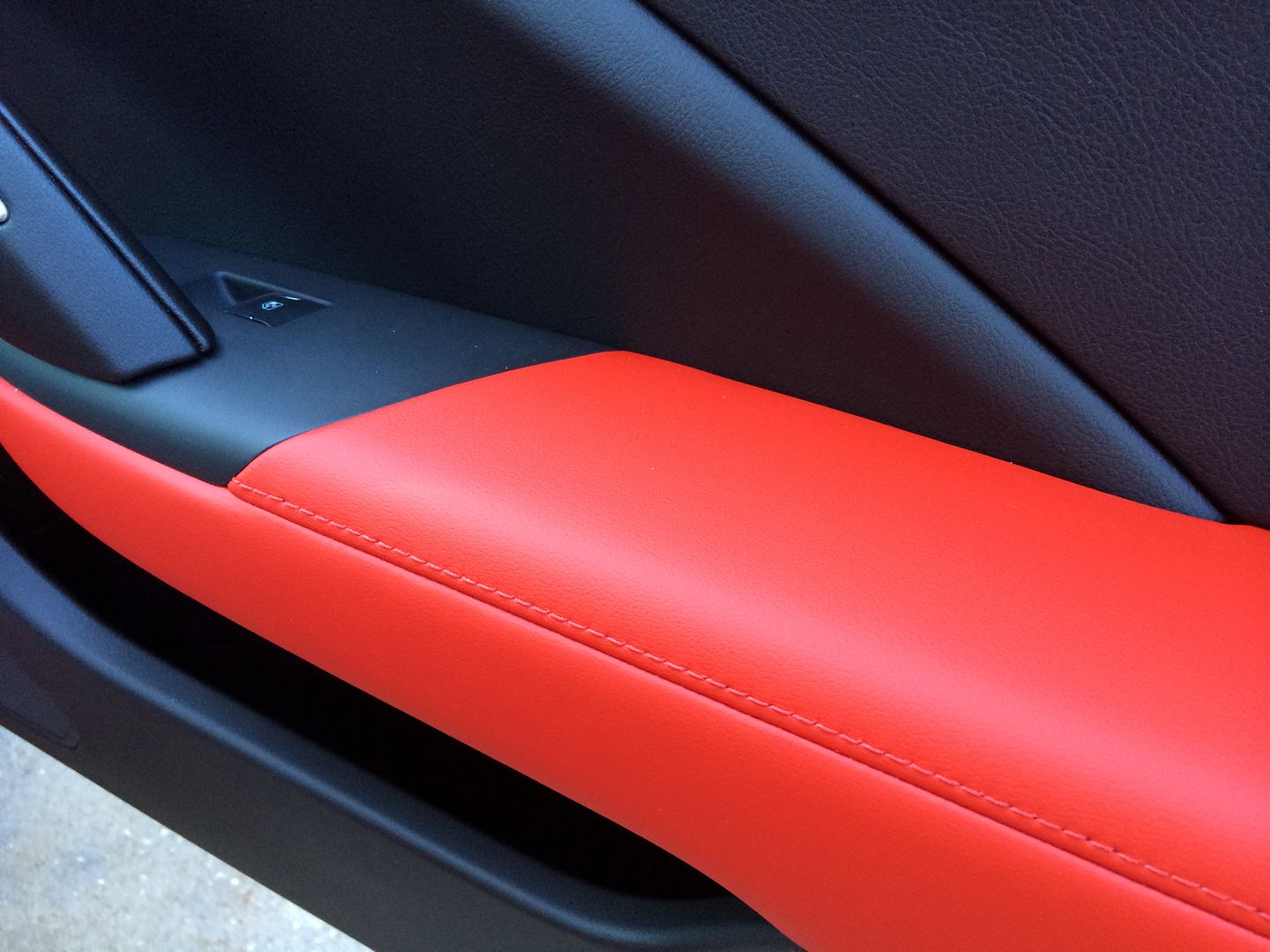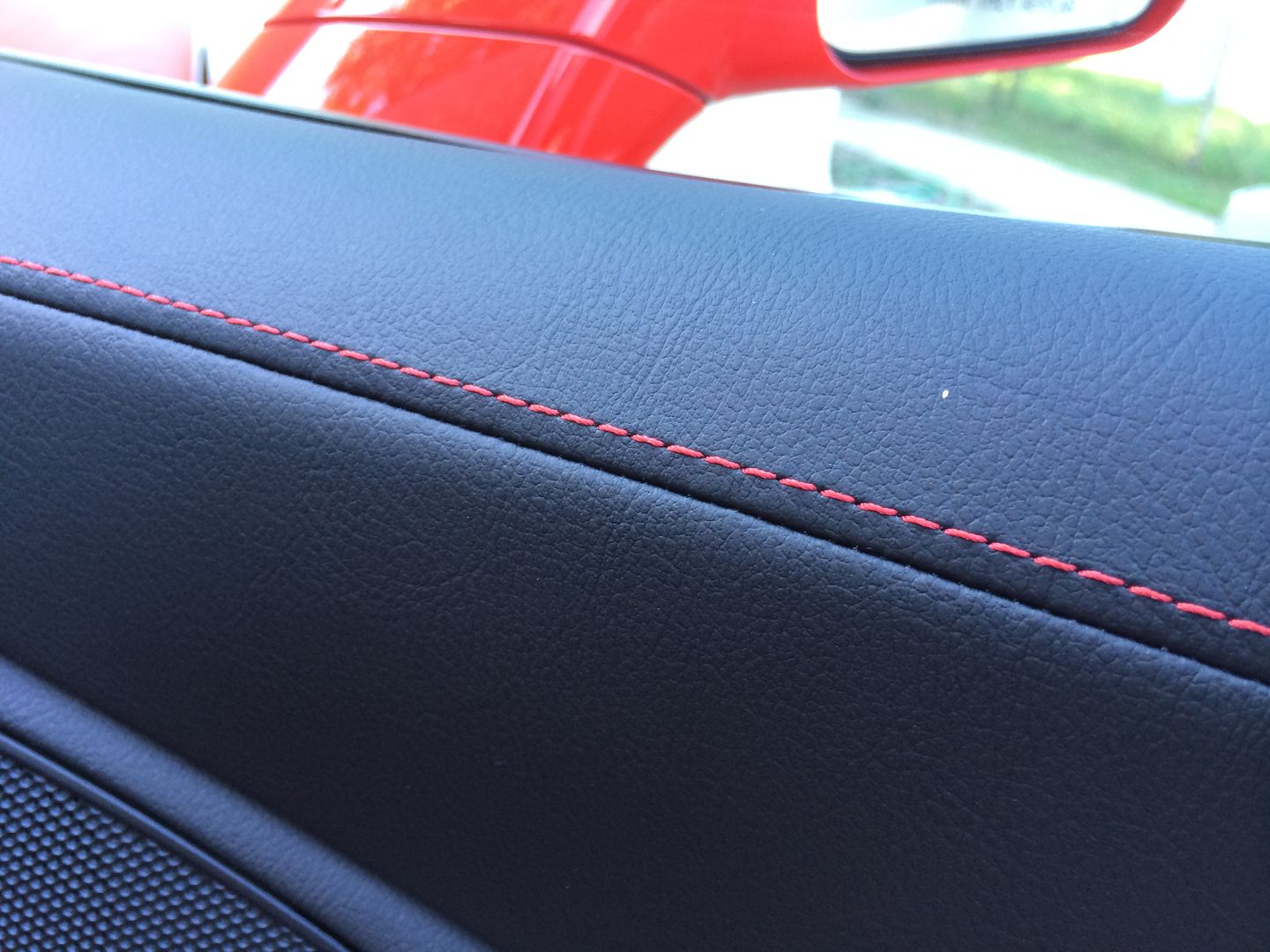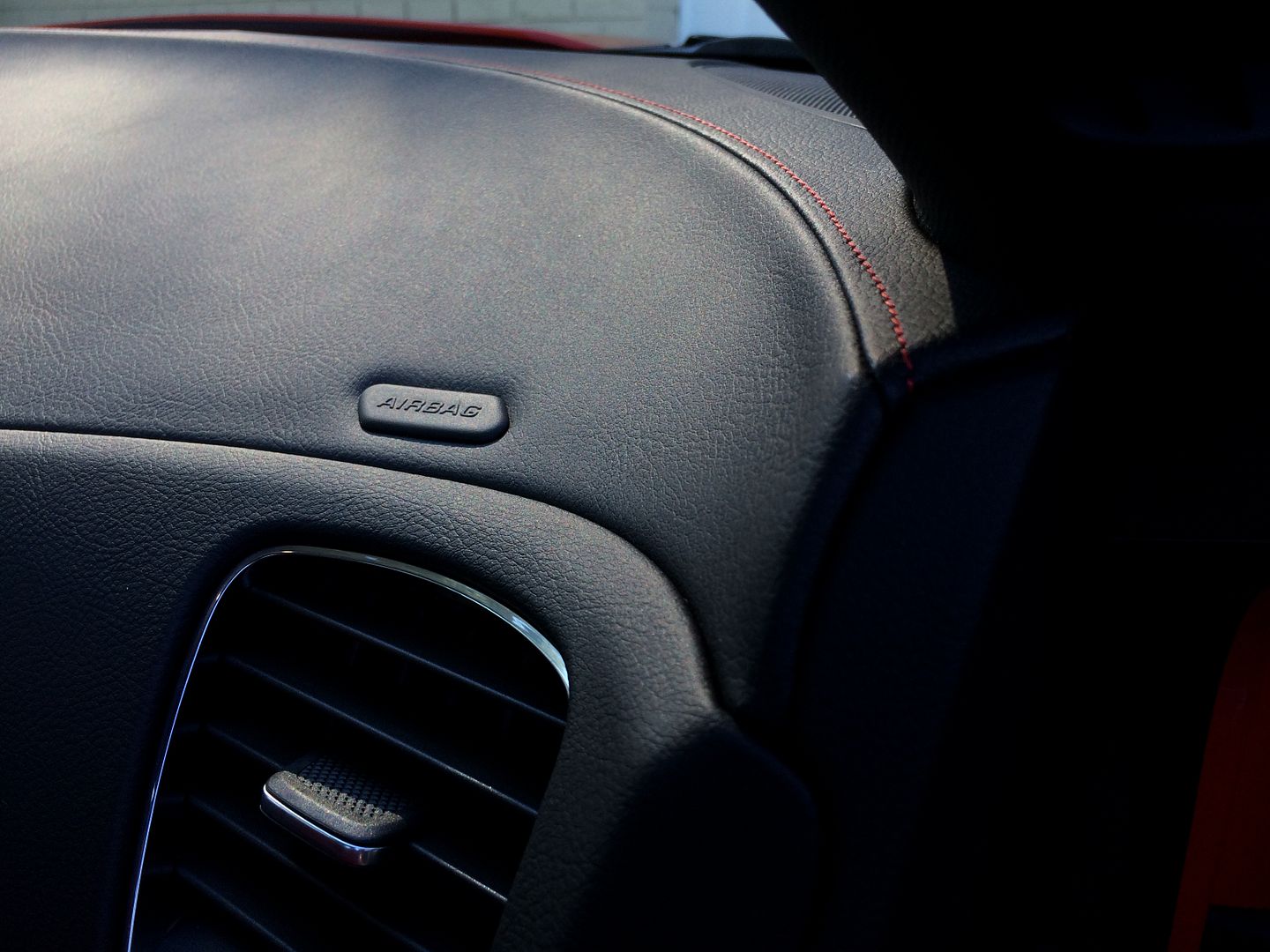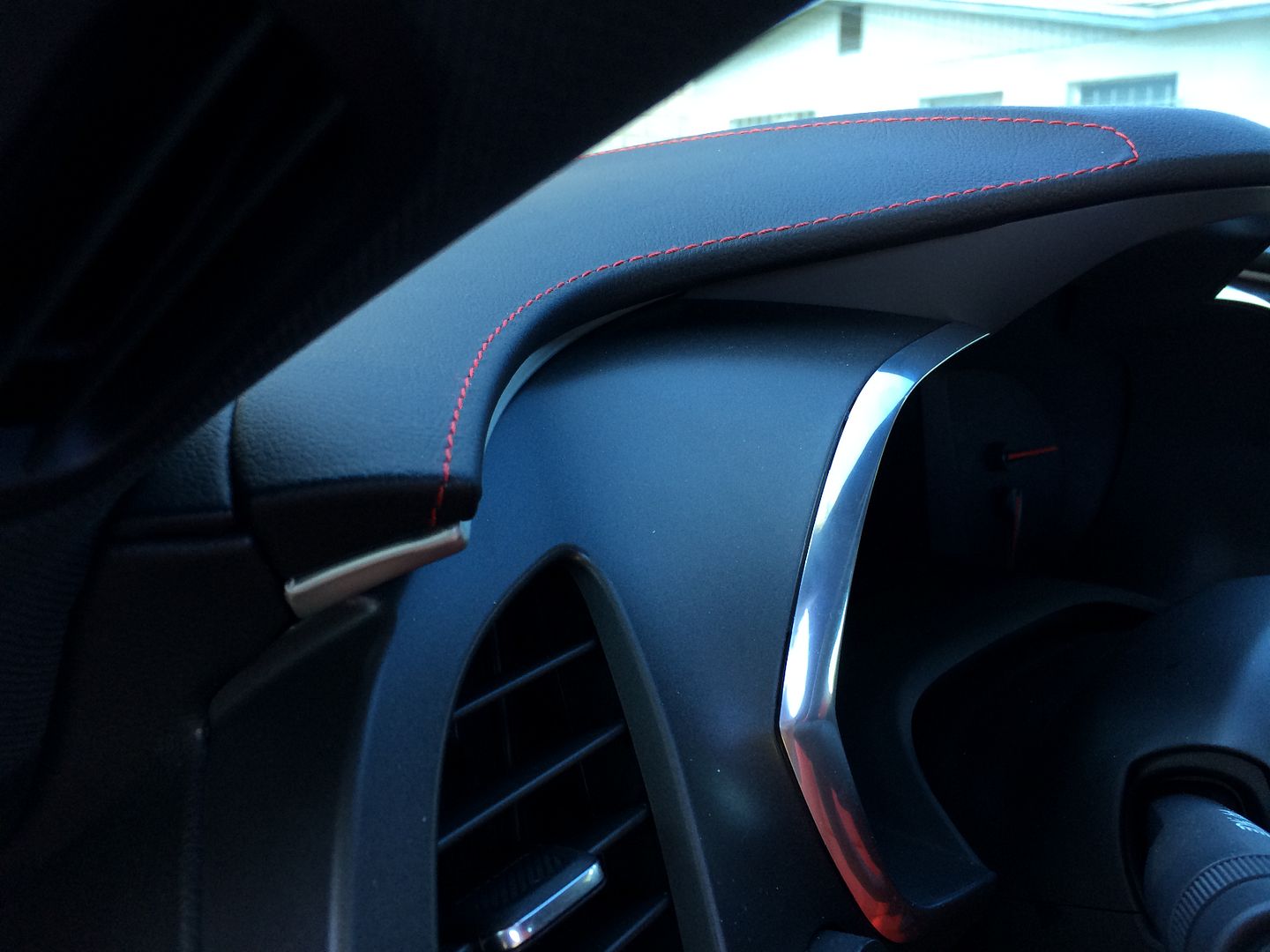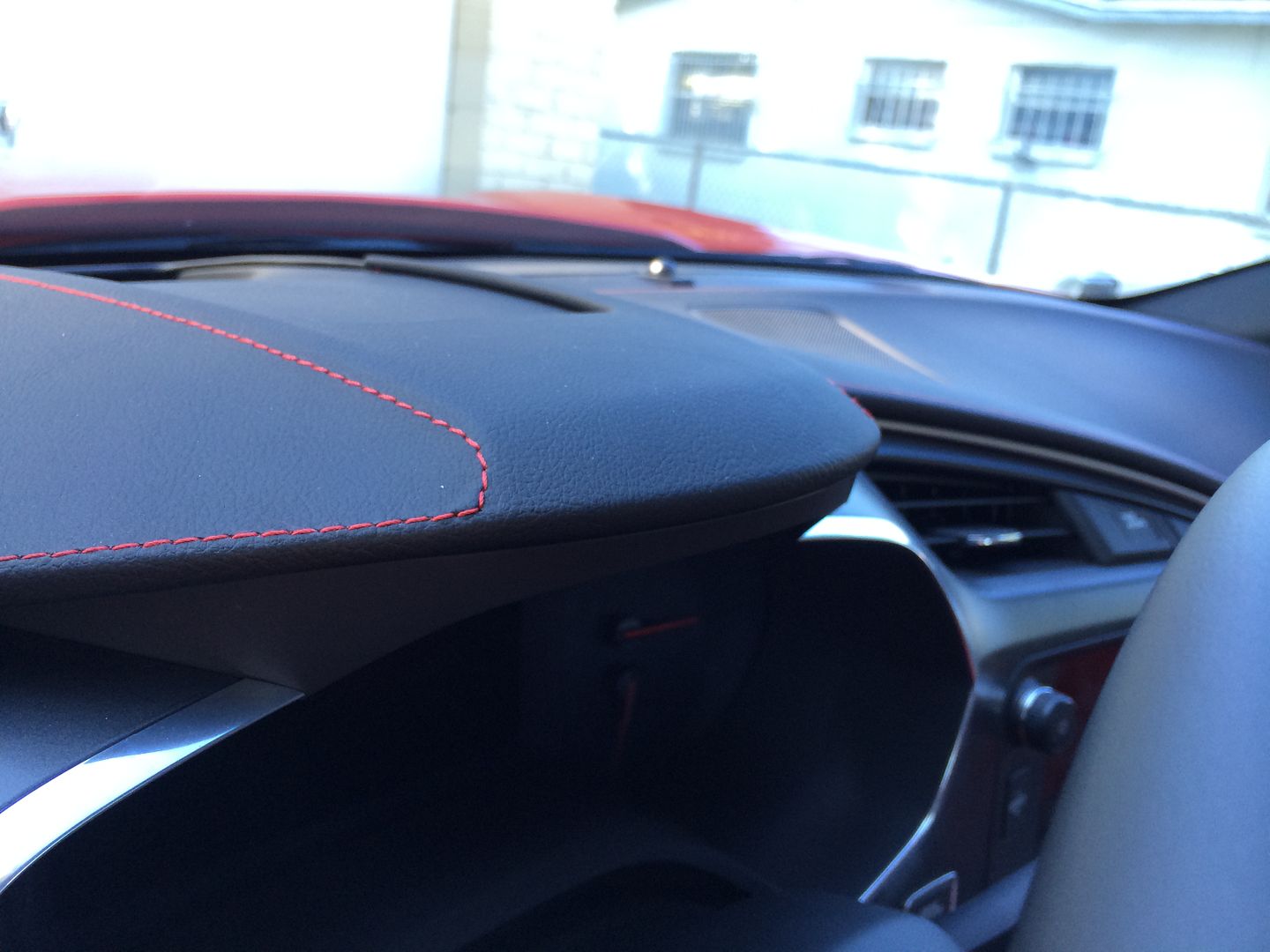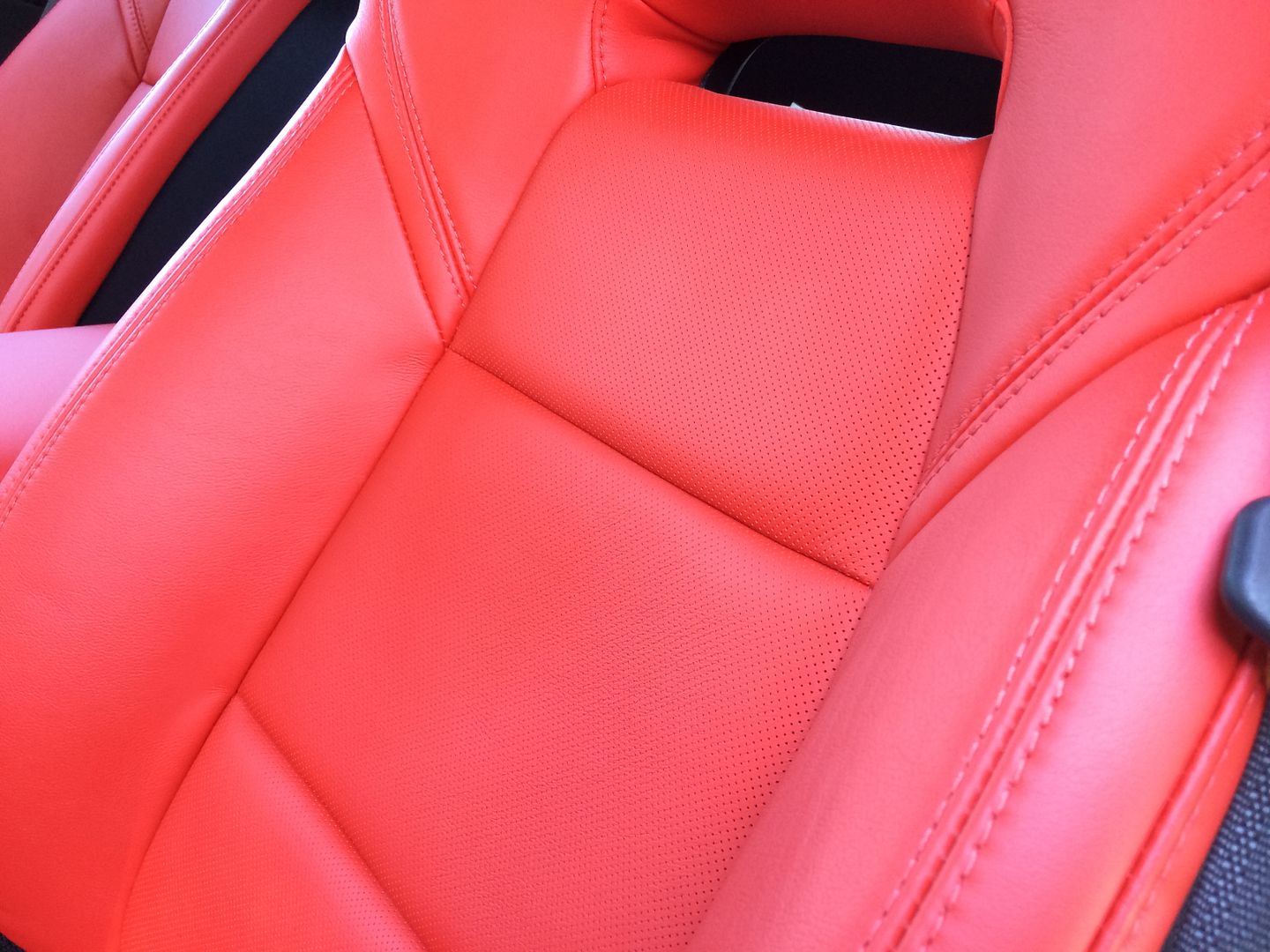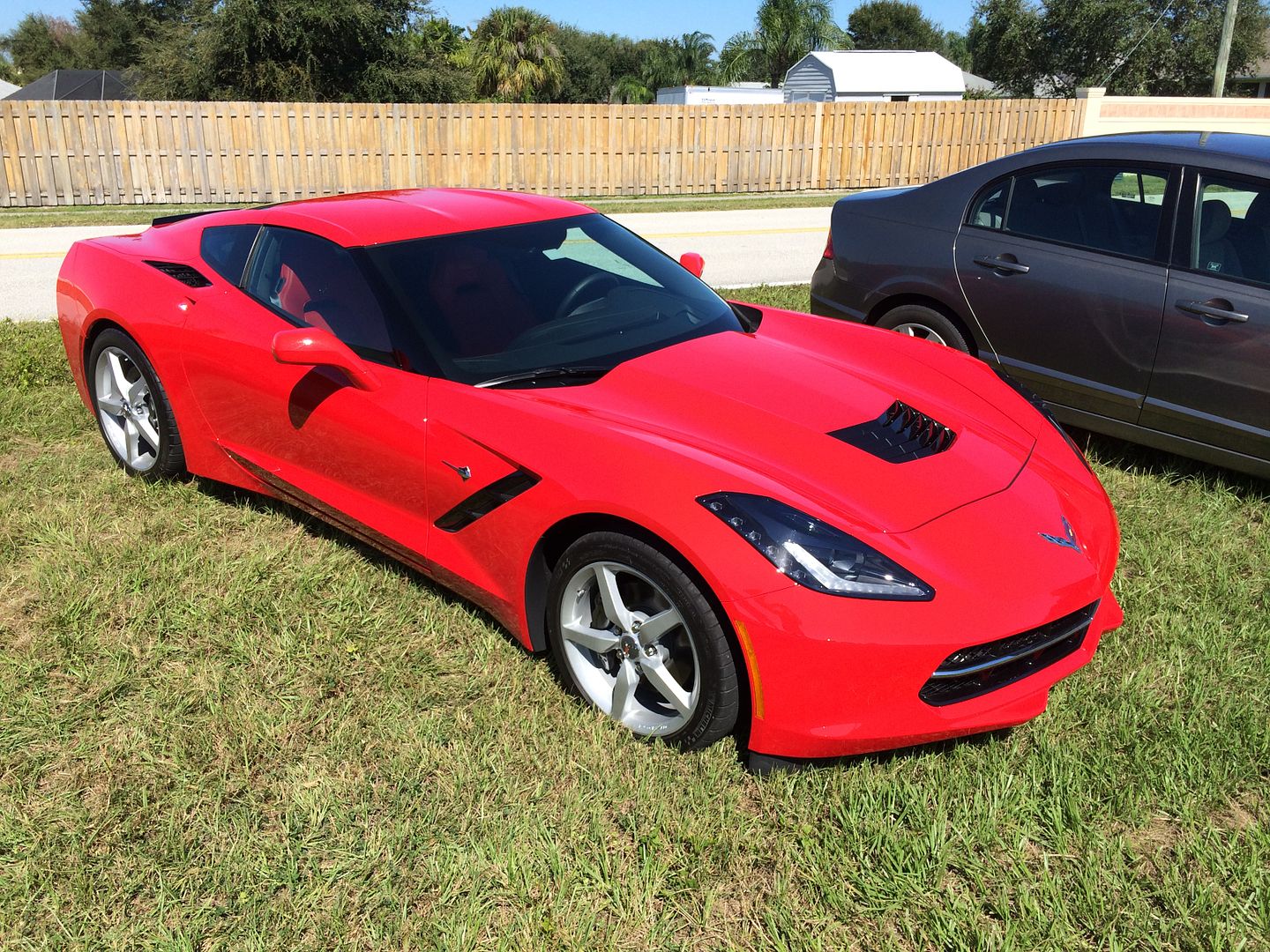 For those of you that might be considering the GCA bra that is available, here is a photo of it installed on the car. The fit is very good and it did a great job of protecting my nose for the long ride down to Florida.
As a postscript, this car is not for the shy. I lost count on the highway of the number of cars pacing me, photograhing me, videoing me, giving me thumbs up and waves. I had countless people complimenting the car and approaching me at rest stops to see the car and ask about the car. I emptied two McDonald's and one Burger King (employees and patrons) when I pulled in the parking lots for meals on the road. Trips to the gas station are filled with more of the same. So if you have one coming...get ready for it.
Enjoy,
Paul