So as i was working the project stingray,, you can see more in the owner built threads , wanted to share some images and the amazing products form the east coast..
Working with my tuner we were talking about catch cans, and then i learned about Mighty Mouse Solutions..
He makes amazing products for various line.. an the one i want to share are vette items for us here in the family..
Wheel spacers.. He was the true start from what i hear. and makes amazing Drag wheel adapters and more..
i believe there 1 piece billet, and come with 10 stainless racing lug nuts.. under 200 bucks.. which is keeping him busy.. we havent done wheels yet on the stingray thats a next step..
Catch can..
so we went this route. he has various Power band options (mild to wild) for the Can,
here is ours installed..
here is what it has when you open up your box of magic..
Has all the needed mounts, connections, clips, instructions.. an stickers as needed.
The features i look are the sick breather, drain tube setup, and cool mount options.. we went with the billet mount..
the sight glass is helpful as well.. i had a old diablo can an never new how full.. and always busted knuckles taking apart.. no further..
2nd with our job we did a P1x Procharger, and Meth alkycontrols/prometh custom install..
While looking at catch cans. i see he offers a gauge panel with various setups .. 1 gauge. .2 gauge.. 1 gauge 1 controller..
now Customer service had me sold.. he only had a demo pic in his Google drive showing a Akly Control module under the single gauge..
1 FM message and it was in the mail.. Can not beat that..
Here are some images of panel, install. and final product..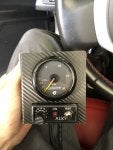 now i wont lie.. catch can part install with ease. simple..
the wiring.. and custom work i did with the gauges.. 2nd story.. if a basic wrencher i would have someone with higher skill set perform.
to do right i removed the dashboard and console panels. to run wiring to the back of the screen area.
THe alky controller items he mounts under dash.. i wired mine into the trunk for the main module, with the fuse panel. and mad a custom wire loom from trunk to the front.
Please let me know if you have any questions..