My Buddy's new 2021 C8 3LT Metallic Bronze Zeus arrived unexpectedly today and will take delivery on Monday.
Being the good friend as I am our relationship is total brutal honesty. So I told him those wheels has got to go and does nothing for the car and looks blah. He told me his wife and teenage son talked him into a black wheel when he wanted something lighter. I told him I'll handle them. 😂
This friend of mine isn't the most creative type so he hired me as his consultant (no pay tho-ugh) to make the car his own and spruce it up.
I said can I add alittle something in the ordering process for me and he said sure and that's just the kind of guy that he is but if course I was kidding.
I then said the wife and son might not allow me back into the house once you go against their wishes lol. I suggested that he keep those wheels and call them the winter wheels and then get a summer set of wheels and create a win-win.
So, although I'm out of town I have started surfing the net and looking around.
Here's his new ride and the wheels which does nothing for the the overall look.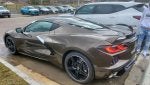 Here's some nice alternative styles of wheel but not in silver and if anyone has other recommendations I'm open as well? This will be fun assignment for me as he wants me to pick out splitter, skirts and all things to make it stand out.