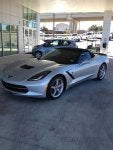 Picked up my car today in San Antonio today and drove all day long. What a car, it is amazing. I drove with the top down all day. I do not need to use the car as a daily driver and I went with the convertible top. It is just awesome and I would not have it any other way. If I drove in heavy traffic with the top up all the time, it might be good to get the coupe. Top down this car is a blast. The sound system and controls work great at high speeds (as in 75-80mph).
Performance exhaust. Are you kidding me. Why would someone not order this. It is so much fun. The car just growls, so glad I ordered it.
The Z51 spoiler in black on a blade silver car is beautiful. One large set of clubs fit easily in the convertible trunk. Two would be difficult. I wanted to know this for a year and it was never clear. Well, my clubs have a 44" driver in a large Taylormade bag, fit in trunk no problem. I ordered the fascia protector and it is a great idea for the convertible. Covers up the spoiler and back end while you load clubs.
I finally became a Stingray owner today. Now I understand why the forum is so active. It is quite an experience.
My wife recommended the carbon flash badges on the silver car, wow, it looks good. Silver and Black...good SPURS colors for San Antonio!!
The car is so nice and so quick, it is just a joy to drive. I am not sure I will ever take it out of Sport mode but it is really nice to have the options.
Thank you Chevrolet for building such a fun, quality product. Built in USA really means something here!!!