For whatever reason GM designers have little to no imagination when it comes to the finishes on the C7 wheels. Silver and chrome are too bright and black is too dark.
Even the new look 2015's miss the mark IMHO.
While sitting in a local Dodge dealer closing a deal on a new Ram pickup I couldn't take my eyes off the color combo on one of the 3 Vipers sitting on the showroom floor (they have 2 more in storage).
This is virtually the same paint as Cyber Gray but the wheels could best be described as Hyper Gray, somewhere between Hyper Silver and Hyper Black. It's the color I always knew would simply complete the look on a Cyber Gray C7.
I just hope I can find a refinisher to match this color. iPhone photography doesn't do the color justice.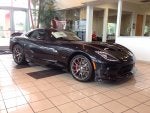 Sent from my iPad using Corvette Stingray Forum