Post your spray on sealants here...
If you want some great protection and a great shine and don't want to spend hours doing it, try this stuff. All you do is wash with a good product like Meguires Gold Class shampoo and while it's wet, spray the car down and dry it...you are done...give it 6 hours and take a look - protection for months...It's going on my car in the parking lot before I drive home 1200 miles...
Prima Hydro Spray Wax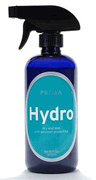 BTW, everything I recommend, I have bought retail and used...