Discussion Starter
·
#1
·
I have had a nagging problem for about a month now (on a C7 LT3 convertible built in December and purchased in March) with the tire pressure monitor system. I get a tire pressure monitor fault indication on the display and find when I go to the tire pressure page that the right front tire is not indicating any value. It will work briefly if I have the dealership reset the system; sometimes until the next day, but no longer. So far, they have replaced the sensor three times, but the problem continues. The mechanic said GM tech tried to blame it on things I had plugged into USB ports (iPod, iPhone) but after the last reset, the problem returned even when I had nothing plugged into any USB port. I've left a couple of messages with the service advisor since my last visit (a week ago) asking him to try to get more info from GM about how to actually fix the problem, but he hasn't called back.
I would rather not even have a tire pressure monitor system than have one that sets off false alerts every time I drive the car, but I guess that's not an option.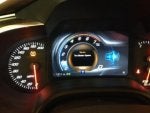 Does anyone else have a similar problem?