Please note: This is using a Mac. I believe the file format is the same on a Windows machine but that would need to be confirmed.
I know many have transferred songs from iTunes to USB using multiple methods and I think most simply live without the playlist feature. I wanted to see if I could find an relatively easy way to also transfer the playlists and I've come up this this.
One thing you need to understand is a playlist is nothing more than a listing of songs with the path (directions) to the each song on your storage device. There are a number of playlist formats and MyLink is pretty good at understanding the most common. I am using the standard .m3u format in this example. MyLink can also play most modern encoding formats including Apple's protected mode and AAC encoded files as well as .mp3 so there is not longer a need to convert files, it's now just a copy function to move music out of your iTunes library.
Here is a step by step procedure to copy your music onto your USB stick and recreate your iTunes playlists.
1. Find your music library on you computer. On a Mac, open Finder and click on the "Music" folder. You should see something like this.
2. Expand the iTunes then iTunes Media folders to expose the Music directory. You will see the artist sub folders. You want to copy the entire Music directory, along with all of it's sub directories onto the root of your USB stick.
3. After a few minutes (or longer depending on the size of your music library) you should have a mirror image of your music on your USB stick. (I left all the album art and other control files in each directory. They take up very little space and the radio's will ignore them if they don't understand the file extension. It's simply not worth the effort to try and delete them IMHO)
From here you can simply eject the USB stick and it will play perfectly in your car with artist, genre and album information but you won't be able to select a playlist. The following describe how to export and edit the playlist files so they can be read by MyLink
4. Within iTunes select a playlist you want to export and right click on it, select
Export
Make sure to select the "M3U" file format and the USB drive you just copied your music to.
5. You will now have to edit the M3U file to remove the extra file path information iTunes hides from you. Do this by right clicking on the M3U file you just created, selecting
Open With
then
TextEdit.app
6. Using the
Find and Replace
function
Search on the path information up to and including the /M in the last Music directory. Replace this string with simply an "M", this will remove the leading "/" so MyLink interprets this as a relative path (relative to the location it's reading the file in). Select the "All" button next to "Replace" and the file will look like this: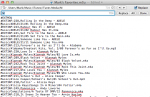 Save the file
7. Do that for all your playlists and you will end up with a USB stick that has a file and directory structure like this.
Now, eject the USB stick from your computer and plug it into and available USB port in your car. It will take a few minutes for the radio to read the USB stick and create it's indexes the first time. It will go faster as you update the playlists and music directory.
Once it's indexed the USB stick you will have Playlists available to select from. I hope this helps.