Discussion Starter
·
#1
·
I have been seeing more and more forced induction builds done with the entire PCV systems functions being defeated, which will lead to premature engine failure period. The PCV system serves several purposes, and only one part is relieving crankcase pressure.
As part of the combustion process, several damaging compounds enter the crankcase as blow by, and if these compounds are not imediately evacuated while still in suspension, they quickly condense and fall into the engine oil accumulating with every start/stop cycle greatly accelerating engine wear.
These compounds consist of the following:
Water vapor released during the intense heat and pressure during the combustion process. While most exits out the exhaust, some enters the crankcase and mixes with other hydrocarbons to form Sulfuric acid. This begins to attack all metal surfaces and also causes corrosion.
Unburnt fuel. Dilutes the oil and reduces its ability to protect against wear and galling.
Abrasive soot and carbon particles. Much of these are to small to be trapped by an oil filter and once in the oil remain there circulating through the engine accelerating wear until the oil is changed.
And other various compounds.
Here is a good training video explaining this:
Filtered, fresh air must always be entering one side (the "Clean" or "Fresh" side of the PCV system) to make up for, and flush the dmaging compound laden "Foul", or "Dirty" Side of the crankcase. This must be maintained constantly to remove these compounds as soon as the enter the crankcase, or they will quickly settle and mix with the engine oil contaminating it as well as the water and sulfuric acid coating the parts in the upper portion of the engine wear they condense at every shut down.
Here is a picture of the rocker arms of a LS engine after only 6 months running this type of system:
IF you defeat all of this, and just vent pressure into a vented style catchcan, all your doing is releasing pressure and all evacuation and flushing has been effectively defeated. The vented/breathered can will capture some dirty water vapor and a small amount of oil mist that escapes with the pressure, but a fraction of what is accumulating in the engine.
As you could see in the video, on a naturally aspirated engine, the intake manifold provides this vacuum to maintain constant evacuation and removal of these compounds at all but hard throttle, but with any centrifugal super charger or turbo application, the intake manifold becomes pressurized quickly with boost, so a standard PCV design will not work. So you have to use a system that does proper evacuate at all times.
Here is how the RX system for forced induction works:
The dual valve RX system used for FI works by using the intake manifold vacuum for evacuation while at idle and non-boost operation as the OEM system will, but as soon as the primary valve detects any boost (or lack of vacuum present in the IM) closes so no pressure can enter the crankcase via the can and lines. The secondary valve will then open, using the suction (inlet) side of the SC head unit, or the turbo (same as GM does with the new Caddy ATS turbo) so there is uninterrupted evacuation taking place at all times, in boost or no boost. All vapors are drawn through the RX separator (no equal on the market in effectiveness) and all the oil mist & vapor, water vapor, unburnt fuel, etc. is removed from the crankcase vapors and only cleaned vapors enter the combustion process. The system remains emissions compliant (except the planet CA due to CARB cert requirements) as it stays closed, the crankcase evacuation is actually more complete than stock, nothing vents to the air causing smell and pollution, and the engine gets the chance to live a long life without the accelerated wear caused by leaving these compounds to accumulate in the crankcase.
Here is an example of what accumulates int he crankcase when you do defeat evacuation. This is a new Ford EcoBoost twin turbo with a PCV system that only evacuates at idle and non boost (remember, when you defeat the PCV system and use a vented tank there is ZERO evacuation ever taking place...the ecoboost at least evacuates at idle and low throttle):
The video above shows immediately after installing the RX system for forced induction as it pulls out what had been accumulating in the crankcase. After a thousand or so miles the mix caught is mainly oil and contaminates with far less water and unburnt fuel as this shows.
What this mix looks like when allowed to settle for several days: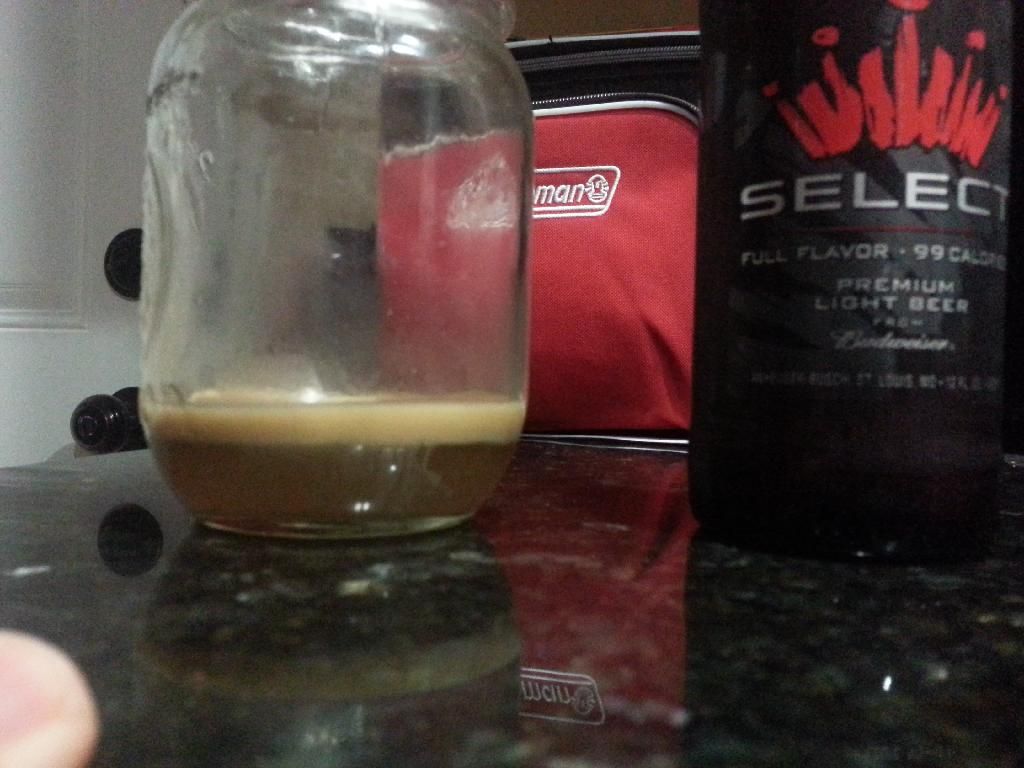 Over time, this will settle into 4 separate layers with water and sulfuric acid on the bottom. Unburnt fuel next, then emulsified oil/water, and finally oil at the top. You do NOT want this accumulating in the engine of any vehicle, much less a $70k plus Stingray.
Even the most basic economy race car will at least have a basic inexpensive header evac venturi system, and most will have a belt driven vacuum pump, and these are cars only raced...not run daily on the street where you are throughout the day starting the engine, parking and cooling, etc. I cannot stress enough how critical these functions are, and as the wear is gradual over time, most wont see the results until it is to late 10-20k miles down the road from running a defeated PCV system. Even the most basic lawn mower engine has evacuation function.....so to see these advanced cars, with excellent designed FI systems making big power, not understand what defeating these critical functions does to the engines life.
Ask questions, please be detailed if anyone doubts this. I see expensive system being installed that totally defeat all evac function more and more with no thought to what your doing to your engine over time. This makes the intake valve coking issue look like nothing in comparison. So lets make this an intelligent Q&A thread so all understand every aspect of proper crankcase evacuation. I can show bearings and crank/cam journals showing the damage as these compounds have attacked them over time, etc.