Discussion Starter
·
#1
·
Given that the guys that designed the C-7 seemed to favor angles over round shapes I found it odd that they favored round exhaust tips. It seems to me that this look might look nicer. This look seems to be a natural: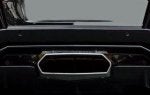 If one of you that is a wizzard with photoshop could work that image on this one:
We can see how it looks. Thanks!