Discussion Starter
·
#1
·
Hey guys, since I haven't seen any detailed pictures I figured I'd share some with you. Note that I do not have my z51 yet....hopefully next week, so I have no proof if this actually stops the oil from the dry sump burping. I'll add more to this once I've got the car and installed/put some miles on her. Enjoy!
So first off here's what it fully looks like...top, side, and bottom.
The barb on the side where your line hooks up has threads so you can take it apart and even has an o-ring to seal it up. Pretty nice
Once you unscrew the bottom piece off here's what's inside.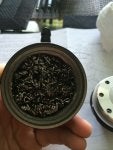 Cheers.